Description
Diarrhea management consists of an empirical approach.
Available treatment options fail to be effective unless the specific cause has been identified. The medical community demands for an effective, universal and safe approach without contraindications and safety concerns.
Filtrum is a non-systemic, universal approach to the management of diarrhea.
It contains Lignin, a polymer of plant origin, a polysaccharide with developed porous structure, obtained by the acid hydrolysis of wood. Lignin possesses a high sorption spectrum activity as well as a high sorption capacity with a pronounced activity towards pathogenic microorganisms and toxicants and not to the symbiotic biota.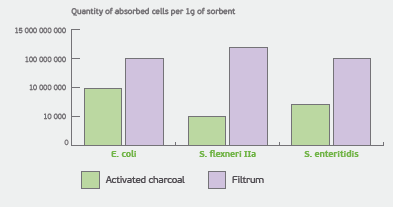 Powerful – high absorption capacity of pathogenic bacteria comparing with charcoal.
Lignin is 1000 times more effective than charcoal in neutralizing pathogenic bacteria in gastro-intestinal tract.
First aid protection from Alimentary intoxication and intestinal infections Universal
Lignin has broad spectrum sorption activity: from light molecular substrates to complex structures and cells.
Sorption capacity of lignin vs activated charcoal for substances with different molecular weight.
Absolute sorption capacity of lignin reaches maximum level for substances with medium molecular weight whereas charcoal demonstrates much less sorption in this area and substantial loss in high molecular weight area.
Lignin – associated sorbent (Filtrum) enables to decrease intoxication irrespective of the toxins origin – ranging from low molecular substances to bacteria which is actual as first aid means in case of acute disorders of unspecified origin. This fact could be demonstrated on the above graphic model.
FILTRUM - New approach for the management of IBS
Open-label, comparative, randomized, clinical study of efficacy and safety of use of Nifuroxazide and Lignin (combination vs monotherapy) in the treatment of intestinal dysbacteriosis in adult  patients with irritable bowel syndrome with predominance of exacerbated diarrhea
2020 – 2021
 Day 42 ± 2 of Treatment IBS-D Clinical symptoms disappearance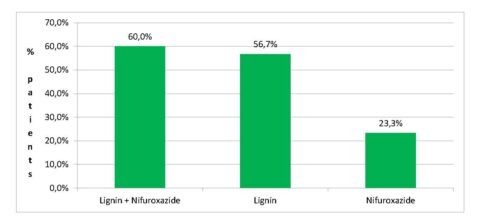 Fast, safe relief for gas and bloating:
Filtrum is also recommended for relief from irregular bowel movement, bloating, pressure and discomfort.
Not absorbed in the gut and eliminated with the stool.